ok i should totally be sleeping because in less than 8 hours, i will be stepping on the court for my first tennis match in 7 years!  actually i'm not sure that my one and only match from 7 years ago even counts, but technically that was my first and it's kind of a funny story:  since i'm such a classicist, i was totally amped about wearing my tennis whites: pleated white skirt, lacoste shirt, and white visor.  my partner and i even coordinated our outfits.  we looked really cute.  ingenue that i was, i assumed tennis was a friendly game for ladies. so when we stepped onto court #1 (ugh, the horror of being on court #1 in your first match), i greeted my opponents with a sincere smile, while noticing that they had not put much effort into their outfits.  to my surprise, my smile was met with gameface.  uh, oh!  add to this scene, the image of hubby and the cutie pie kiddos (then age 6, 3, and baby) with their "let's go mommy" signs and you pretty much have the perfect setup for a sitcom moment.  suffice it to say, we got our butts kicked, and i think those "ladies" even cheated a bit.  since then i've been only an occasional clinic-taker… 'til now…
for my upcoming match, i won't be in tennis whites, but rather navy blue fila skirt and tank top, my official team uniform.  still, i adore classic tennis green and white, especially when presented by one of my faves, kate spade:
of course, there's also classic black and white a la chanel:
no matter what i'm wearing, let's hope i can channel althea gibson or one of the williams sisters (or even chanel iman channeling althea gibson) instead of my seven-years-ago-self.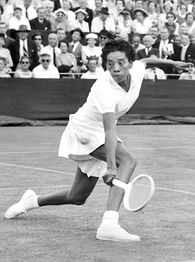 Love all, first serve